Vastu for House: House | Gruha Vastu is very important place for all the effects of our day to day activities. Browse through the links provided on left side menu for more details about house structures and other parts of the house like dining room, puja room, living room etc. Some residents may get some feelings that if changes made to the home for one room may brings all prosperity etc, but its not true, we have to do all the alterations to the house as per vastu shastra, then we will enjoy the fruits of vaastu shastra in full. Vastu for House means first we should check the placement of the property and after that only wehave to check the placement of the rooms and their doors position. Now a days many residents are just reading some vastu books or reading some content in vastu websites and check vastu for house and doing alterations. This is not a right way of doing corrections to the property. People should be careful when they are doing renovation works as per vastu for house. If any mistake was committed at the time of renovation work, again residents has to do alterations, it may double the expenditure.
We understand that the various energy fields are intersecting and interacting with each other at all/any place on the earth. This is applicable to our small plot also. The cosmic energies are geo-energies, magnetic energy etc., which are also acting in full on the earth. The scholars who knew astrology, were aware of the fact that there are exaltation or debilitation for planets. The planets will give their results accordingly. In a similar way, there are exaltation and debilitation for each direction also mentioned in vastu shastra. The exaltation and debilitation depend on the paths of solar energy of the earth planet and the magnetic energy.
The morning sun rays have abundant positive energy which is quite useful to our body. But, the afternoon sun rays have negative energy which is not so useful to the body and we get easily tired when compared to the morning sun rays. Vastu Purusha takes his breath from North east direction. The energy received from Northeast direction is carried to South west direction and are to be stored. The northeast serves as the positive pole ( + ) and Southwest as the negative pole ( – ) of the earth's magnetism. Therefore, we should construct a building such that the Northeast sides have more wide openings and south west sides have less or small openings only. The vaasthu shastra says the north east corner as Exalted and south west corner as debilitated ones. The sides through which the energy travels is called as Exalted direction. The receiving side or opposite side to the energy path is called as debilitated side.
The Divine idea behind this one is to get the positive energy to the maximum and to store the same as far as possible. This will serve as a positive force to development. Such type of research or findings are not available in old literature. But, so many vastu books in present days clearly explains about good or bad plots and their impacts on the house occupants / owners. This is more practical and results can be seen in any house, every one requires to build castle, but most of the practical people wishes to have a mansion, some may thought to have atleast one crib in the cities like Mumbai, Dubai etc, the abode should be peaceful, residents should enjoy the peace in the residence, this is said to be vastu. This is also scientifically proved. The Magnitude and concentration of the Earth's magnetic forces or field decide the life of all living things on the Earth. We saw earlier that AIR, FIRE, WATER, EARTH AND AKASH are the FIVE ELEMENTS OR PANCHABHOOTHAS which control our life. The change of the magnetic energy will automatically change the functions of the five bhoothas and our mental attitude, emotions, way of living etc., will be changed accordingly. This could be easily seen, at the time of full moon or new moon. The mental strength of mad people, are highly disturbed and they react very badly during these periods. If we open the Uchcha (uchchasthan) by means of windows doors etc., and close the Neecha (neechasthan/nichastan) sides by providing small openings, we could receive and keep the energies within our building for a longer period. These openings facilitate the presence of various positive energies always in the house. These energies are very important for our happy domestic life. So the main entrance and the residents movements should be always in the Uchcha or exalted side. We can easily get success in our business and trade and have a happy family etc. we will have a happy mood when we are entering our house itself. It it is otherwise, there will be quarrels, family problems worries, etc., inside the house. One will be reluctant or have aversion to enter his own house.
Is Vastu for USA Homes and Indian Houses vastu is different. number of NRI's settled in USA are raising this question. Our answer is vaastu is works every where, from East to West and North to South. We have clients all over the world except Green Land, Arctic and Antarctic Continents., if any body known to you may belongs to these provinces then please help us by requesting them to send their house plans with case history and their experiences with their respective properties.
In some houses there may be some toll-stones placed without their knowledge, some body asking that whether this is a bad omen as per vastu shastra, please note that just keep it away whether this is bad or good, but it is too inconvenience to the residents or inhabitants of such property, so better to find it out and do action forthwith or immediate to remove it, otherwise residents may not have peace in such properties. If the double sound listening for each and every sound in a property it is not a auspicious thing. Where is that rock or stone, check every where with one expert old aged mason.
In some houses, there may be some sparrows and parrots are flying, some times it may be happen to fly a crow inside the house, what will happen if a crow passes into your messuage. Some people says many things, if the crow return from same path, nothing will happen, if the crow passes through another door to outside, it may be too bad to the house. Now coming to the point, this crow is a living bird, many birds are accustomed to live with humans, the same way crows are also like that, where the people are moving, there may be crows flying is very common, that is why in Temples many crows are flying nearby areas. Some people believe that it augurs evil when a crow or an owl or a lapwing fly towards North or East doors or any other door in the house, but it is all fictitious. Nothing bad happens. Don't worry about it. Your mind is the boss of your body, so don't weak it with unnecessary thoughts. Dovecote or dove cot in the house is also not giving bad results, but freedom is important for every creature, let them enjoy their own freedom.
One of my neighbor is having bee-hive at his southeast corner of house, it comes to our Northeast corner to our house, is it good to keep, my neighbor respects my words, shall we keep it or remove ?.. some body asking the questions like this. Please listen, bee-hive is not recommended in the dwelling, bee may harm your children, so first remove it. If at any time due to children playing or moving if the bee-hive disturbed then what is the position then, very horrible to think, no vasthu principles nothing here, children safety is important for us, so first remove it. Don't check whether the bee-hive is towards Southeast or Northeast or Southwest or Northwest or East or West like this. There is a more chances to hurt your family members.
Houses side by or very near to burial ground is not good. There is a heavy negative forces are there, it may harm to your positive thinking life or construction. Instead of constructing the mansion side by burial ground it may be better to dispose it and buy another good plot in your city / town. Now a days many burial grounds are encroached and people are not looking for these principles. For them there is no answer. The recommendation is not to buy the edifice side by to the burial ground or servitude ponds. We never recommend people to buy the lands near to the interment areas or funeral and burying locality. Generally sepulture areas has negative energies. Particularly those who has kids may not select the homes side by inhumation grounds. obsequiousness people heard voices of elders and they may not take the lands near to the obsequies performing lands. Here we thought to save our humans in all ways, so we just share our thoughts and some of our experiences, remaining is the whole discretion depends on the residents only.
Some residents have some vacant plots, when they are going to construct the house and visiting the plot, they may observe some ant hills at their land, some body is not removing the ant hill if it is towards Southwest corner. Please note that ant hill is nothing but augurs evil in what ever direction it is. This ant hill is elevated above from the ground level and it is full of holes and there might be chances to reach snakes in that holes, this ant hills may making the soil infirm to build your dream home. Before starting the construction, better to remove it immediately and burn it and fill it with stones, gravel and possible use some cement also. Insects and some creatures living in the site is not good to the residents.
Different people have different doubts, some body are asking that 3 story building is harm to the residents, it is utterly fault, don't believe on those stories. You may construct 3 or 4 or 7 storey building. No problem, please note that if that building is constructed as per vaasthu shastra then no issues. Otherwise show that property to one expert to get rectified bad vastu.
Some residents are asking that consuming alcohol in the residence is good or bad as per vaasthu shastra ?, from our olden days we are treating home as temple., "Gruhalaya" , that is why it is not recommended to have the alcohol in the houses, if you are particularly serious on this issue, do one thing construct one room at top floor and then consume alcohol if it is compulsory as per your profession or job. We observed many houses in so many countries people are using the alcohol and maintaining bar room in their living homes, that may be a dignity or prestige to them in their country. People in some countries are degraded their friends who does not have bar room in their houses. Some times consuming alcohol is compulsory in some cold countries or cold climatic condition areas. In Singapore we found bar rooms/cabin in many houses.
Placing the Jhula Chair / Zhoola Chair / Zoola Chair / Zula Chair / Joola Chair / Jula Chair : First we have to observe that this Jhula chair is a moved one, its not a non-movable asset, its purely movable asset. We may hang it towards North, East, Northeast corners. If your property is a biggest one then you may plan it at any where, please note that it should not obstruct the passage where you are coming out from your master bedroom, if it has Northeast door.
Many people asking how to make house according to vastu shastra principles, for them we have prepared many tips and vastu information, you are pleased to see the left side menu which has many house inner portions or rooms, shortly we are going to release vastu shastra information in Hindi language. We request all visitors to help us to prepare vastu shastra in Hindi language. check below for construction of the house with 90 degrees, many properties are seems to be maintained 90 degrees but there is some difference, what are they, observe the below images to understand on this issues.
The eight directions help us to control the five elements and make them bring fortunes. This link tells us how to construct or from the eight directions of our plot / house. After cleaning the entire plot, we should first lay the pegs at the four boundaries with correct measurements. This is our actual plot which may be regular. We should keep the first peg / pole at the southwest (SW) corner of the plot, then place a rope or thread firmly and extend the same to the South-east (SE) corner and put another peg. Then place another rope at the SW pole and extend to Northwest (NW) corner and place the third peg pole at NW corner, now measure the angle between the northwest – southwest – southeast ropes, it should be made exactly 90 degrees. The southwest – Southeast, Southwest – Northwest lines should be exactly perpendicular to each other. This process is very crucial for any construction. The below images teaches you the exact positions of perpendicular system.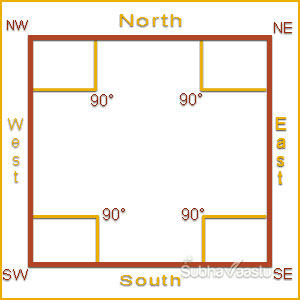 Here first observe the southwest (SW) point, first keep a peg or pole at this point and later start towards Southeast corner, so that will make a line from southwest corner to southeast corner. Then from Southwest corner to Northwest (NW) corner place another rope and peg or pole at Northwest corner. Now fix a standard rope from Southwest to Northwest and southwest to southeast corner. Then it looks like this image. 90 degrees has to be observed at this Southwest corner. It is must and mandatory for any property while in construction. Caution, this process should perform with one expert vastu consultant only. He will guide you a technical and systematic manner and entire project will be successful. If this process is runs in a town, city, village then you will get 90 degrees perpendicular without much problem, but where as it is in open land then the problem will arises. You will get the 90 degrees, but there is a chance for mistake here, what is that ?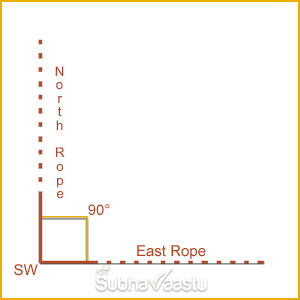 Observe the diagram here. It happens, but only some experts will detect in the inspection. We seen some properties constructed accordingly. What is the mistake here, the southwest corner is 90 degrees, but the entire procedure is wrong. The house construction starting line has been little bit bent, it may leads to many issues in future. This mistake will generally occurs in open lands or out of living areas or constructions. While you are constructing your dream projects, it is admitted advise to approach one expert vastu consultant and show the land before starting the construction. He will guide you the best way for happy living. If this mistake continues upto completion of the domicile, then the entire home inside walls will also bent. Ordinary layman never detect this mistake. Below is another link which bent to opposite direction.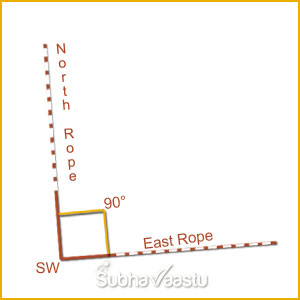 Here the construction also disturbed in the starting process. Please caution while in constructions. Generally people never find out this mistake while in constructions, if residents have not found earlier, then they have to pay much for this known or unknown mistake. Now we are investigating the loss, done by our less knowledge on constructions.
After construction completion, it looks like : – observe the below images to know more information on our mistakes.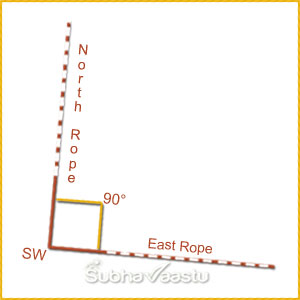 First observe the image with four walls, the entire house is 90 degrees. Now check this image, here wait for 5 seconds for changes in the image and notice the general known or unknown mistakes. Observe carefully while in your constructions or approach one expert vastu consultant for better living. Shortly we will publish how to extend Northeast portion of the property. In the above image there is a house image which has 90 degrees on four corners, later we will describe how to extend Northeast, if the Northeast extends, then it is not possible to fix 90 degrees at Northeast, Southeast, Northwest corners, but 90° is possible towards Southwest corner.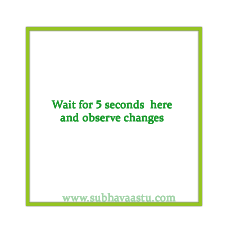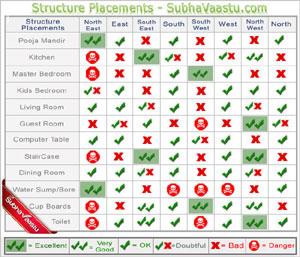 This VASTU CHART helps us to know about location of the rooms and other structural placements in the home. This is an uncomplicated and very smooth to understand different locations and rooms positions. Before visiting this Vastu Chart link, it is highly recommended to the visitors that they should read the content in this link, otherwise sign marks may not be easily understandable in that image. This chart is easy reference reckoner to find out rooms position and other structural constructions in our home. This may be very useful for the residents who wish to know things immediately and inhabitants who don't have time to read all the content in the website.
Magnetic Fields covers at House:
Every plot or house or flat are filled with micro magnetic fields. All the external and the internal divine forces are continuously acting upon the plot or house. If we cut a big magnet into tiny pieces. Then every tiny magnet will have a separate "N" pole and "S" pole. Likewise any small tiny plot will also have all the characteristics of the earth's magnetic zone. The density or intensity of the forces/energies will be decided by the size and the shape of the plots. Positive Cosmic Energy will be more shaded and shadowed to the house vastu principled house.
Cattle shed or Cow shed and its Placements :
In villages former's are maintaining cattle or cow (Domesticated bovine animals as group regardless of sex or age and Mature female of mammals of which the male is called 'bull') for their regular milk utilization and or for business purposes or for agricultural purposes for male, this cattle shed is good towards Northwest part of the property, if you would like to construct the cattle shed at Northwest area then it should not touch the North wall. It may touch the West wall but be aware it should not touch the main house, it means there should be gap in between the house and cattle shed and North wall. If one does not have place towards Northwest then the next best placement is Southeast, here the cattle shed wall should not touch the East direction wall. If one has spacious placement then one may plan towards West direction, but the shed should not touch the main house, generally these cattle sheds have slanting roofs. The slanting is good towards North or East directions. At any cost the slanting should not be towards South or West directions.
Dear sir, I want to buy a plot for investment. How much it would affect me if I am not going to stay there, Thanks – Sadanand – Bangalore – Karnataka – India.
We appreciate your question. Here, attachment is the most important point with the property which you are going to buy, than the name of the ownership. Vastu is not a person or a soul to check the names of the documents by opening your bank locker and read names of owners of the plot or property. It works only based on attachment with the property. For example : If one person is regularly visiting his friends house which has Southeast street focus and Northeast truncated. Then automatically it will also affect on him, here we have to check, how much time he is sitting there, how many days he is used to visit his friends property, is he sleeping there, is he taking food, is he using the toilets there, every thing is accountable here. Based on his friend's property vastu, his life will also have such small changes and effects. If you purchased any property for investment, that means, how much time you spend there for a day, week, month, year, etc all has to be accountable here. For example : if you are not connecting with the property for a period of more than 2 or 3 years, then it won't affect on you. If you used to attend the property for 1 or 2 times per 3 or 6 months, or one time per three months, then it may increases the attachment with property, based on your visits it affects on your life, if you are not in touch with that property it won't affect on you. If the investment property is good then it is highly recommended for regular visits. If the property is not good as per vastu shastra and situation may be compulsory to buy it, then buy it, but don't go regularly to that property, or just forget about it. Then it won't affect on you. In future we will discuss more on this property.
---
Some of the funny or believable or unbelievable things which happens in our life, we cannot express with others with smile or cry on these situations, read those small things happen in our life, these may call law of nature, not related to Vastu Shastra.
1. LAW OF QUEUE: If you change queues, the one you have left will start to move faster than the one you are in now.
2. LAW OF TELEPHONE: When you dial a wrong number, you may never get an engaged Sound.
3. LAW OF MECHANICAL REPAIR: After your hands become coated with grease, your nose will begin to itch.
4. LAW OF THE WORKSHOP: Any tool, when dropped, will roll to the least accessible corner.
5. LAW OF THE ALIBI: If you tell the boss you were late for work because you had a flat (Puncture) tire, the next morning you will have a flat tire.
6. BATH THEOREM: When the body is immersed in water, then your telephone rings.
7. LAW OF ENCOUNTERS: The probability of meeting someone you know increases when you are with someone you don't want to be seen with.
8. LAW OF THE RESULT: When you try to prove to someone that a machine won't work, at that moment it will definitely works!
9. LAW OF BIO MECHANICS: The severity of the itch is inversely proportional to the reach.
10. LAW OF COFFEE: As soon as you sit down for a cup of hot coffee, your boss will ask you to do something which will last until the coffee become cold.
Vastu Poojas :
Is there any vastu Poojas, certainly no. Vastu Shanthi pooja is there, but it should be performed on in certain house where the resident required some pandit to perform pooja, some pandits says that they will do poojas in their areas and collecting money from residents. We urge every body don't pay money if the pooja was not performed in your home. Here one inhabitant looking for shanthi. We request all pooja masters to answer for the below question. You may use Add Comment area or contact us for reply, don't feel that we are testing your capabilities or knowledge. But we are looking to announce some gifts to whom can send us the right answer. We already given answer to this person.
"My house is a corner site. Roads are on the north and west side and houses on south and eastern side. Main gate for cars opens to the western side road and entry to house is through northern side. For the past one year, carcasses of animals like pigeon, rats, birds killed by dogs are regularly found in the garage. Dogs bring bones and dead birds into our compound. Due to this occurrences, we are getting deeply disturbed and we feel that we are facing disturbances from the western side of the house. Road traffic on the western side increased by leaps and bounds and this is causing heavy disturbance to the family members. Can you advise any vasthu pooja to overcome this problem? – Narenadra (Name changed)- Bangalore – Karnataka – India."
Can we use marble for our home flooring, is there any problem arises if we do so?
Many experts/Archakas/people has various opinions on this question. When we started collecting information on this question, we did not find any bad luck who were used marble for their home flooring. Some body strongly objecting that marble should be used only for the Murthis or God Idols, statues etc and marble should not be used for home flooring. We request residents, if you faced any troubles after making the floor with marble then please bring that information to us, we will publish the same here. We urge every body here, let us know that findings then we will investigate again on this matter. Regarding marble flooring we enquired number of residents, but no body pointed that they were unlucky after making the floor with marble. Rest is at your discretion.
Hi this is Gurmeet from mumbai. I came across your website on vaastu. I have a small query that I want to ask. I had read somewhere that if pigeons lay eggs in your house or around your house then it is not considered good/auspicious from vaastu point of view. Around 2-3 weeks back a pigeon has layed some eggs in nest that it had created on top upper potion of grill of bedroom window in my home. Right now since a week the small baby pigeons have seemed to come out of their eggs. I want to ask how can safely remove this entire pigeon nest along with small baby pigeons from the grill portion in bedroom window of my home. What vaastu remedy can I do for this to nullify any effects of a pigeon laying eggs in my home as I had read somewhere that if pigeons lay eggs in your house or around your house then it is not considered good/auspicious from vaastu point of view. Waiting for your reply. Thanks
When we came across many of such happenings in the home, the pigeon nest is not good at homes, because their fur / leaves / fleck may damage the health of humans, it may create allergic to the inhabitants. Some body says pigeon next is good at homes. Practically, these kind of birds, nest, flacks etc are not good for the health of humans. Their barking is horrible to hear. They started roaring / boisterousness / scream at early mornings, which left a bad feeling to the humans. By knowing all the above residents has to decide whether Pigeon nest are good at homes or not. Once baby pigeons vacate the area then clear and clean every thing and don't give any chance to them to make another new nest.